Have you ever wondered what makes one vision care clinic different from the next? Nestled in the thriving town of Boerne, Texas,  and another one in Fair Oaks, Boerne Vision Center's state-of-the-art facility boasts an award-winning team of experienced and knowledgeable optometrists and optical staff who are passionate about providing patients with the best possible vision care.
Regular eye exams are like preventive medicine for your eyes, catching vision problems before they become more severe issues that can seriously affect your life.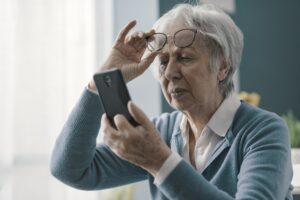 Proper vision care can elevate your quality of life, giving you the gift of clear and comfortable vision. At Boerne Vision Center, we know that your vision is one of the most invaluable senses you possess, and it deserves the utmost care and attention. Our unwavering commitment to providing top-notch care and treatment to our patients is our way of ensuring that you enjoy the gift of clear, healthy vision for years to come.
At Boerne Vision Center, we want you to know that accessing our services is a piece of cake!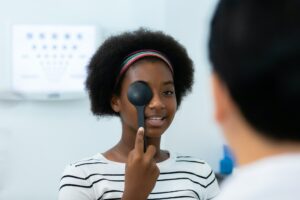 All you have to do is give us a call or visit our website to schedule an appointment. Our friendly and knowledgeable staff will be more than happy to assist you in choosing the best services that align with your specific needs.
We understand that every customer is unique, so we take the time to listen to your concerns and requirements. Whether you have questions or doubts, our staff will provide the guidance you need to ensure a smooth and hassle-free experience..
Boerne Vision Center has a wide selection of designer frames and contact lenses, including top brands like Charmant, Maui Jim, and Gucci. They also carry more affordable frames for those on a budget. If you spend a lot of time in front of a computer or other digital device, you may benefit from their range of computer glasses designed to reduce eye strain and improve your vision. They also offer a range of sunglasses to protect your eyes from harmful UV rays outdoors.
In addition to designer frames and contact lenses, Boerne Vision Center offers prescription and non-prescription eyewear, including prescription sunglasses, sports goggles, and safety glasses. They also have a range of non-prescription sunglasses and reading glasses for those who do not require corrective lenses.
Personalized Vision Care To Meet Your Busy Lifestyle
At Boerne Vision Center, we pride ourselves on delivering personalized vision care and style to our clients. Our optical and optometry team collaborates to ensure your prescription is accurately crafted using the latest lens technology, while also helping you find a collection of eyewear that perfectly meets your individual needs. Our optical department boasts a vast selection of frames and an in-house edger, enabling you to receive your eyeglasses quickly.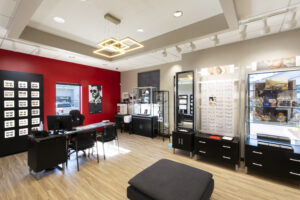 To make the most of your visit, there are a few things to keep in mind. You don't need an appointment for repairs or consultations with our optical department—simply walk in, and we'll be happy to assist. For any medical services or appointments, just call us to book a slot. Additionally, we're highly responsive through various chat options, including the chat located on our Google Business Profile and Instagram. However, please refrain from sharing sensitive information on these platforms.
Complete Treatment For All Eye Disease
If you are suffering from an eye disease, Boerne Vision Center can help.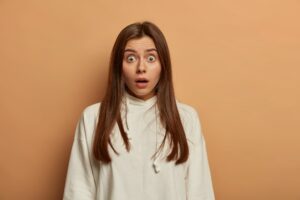 We offer a range of treatments and management options for various eye diseases, including glaucoma, cataracts, macular degeneration, dry eye disease, and more. Our experienced optometrists and the visiting ophthalmologist will work with you to develop a treatment plan tailored to your needs and help you manage your condition. One of the essential services that Boerne Vision Center offers is comprehensive eye exams. During these exams, the optometrist performs various tests to assess your vision, including visual acuity, depth perception, color vision, and more. We also check for signs of eye diseases, such as glaucoma, cataracts, and macular degeneration. 
We offer pediatric eye care services, providing comprehensive eye exams for children of all ages, and can detect and treat a range of vision problems in children. Early detection of vision problems such as amblyopia, myopia, binocular vision disorder, and strabismus are extremely important to avoid long-term damage to the visual system in children including loss of sight.
We are committed to staying up-to-date with the latest vision care technology and innovation advances, using the newest diagnostic and treatment equipment to provide their patients with the best possible care and treatment.
Located near major highways and with ample parking available, Boerne Vision Center also offers flexible appointment times to accommodate our patient's busy schedules. We accept most major insurance plans and offer a range of payment options to make vision care more affordable for our patients. We provide financing options for those who need to break up their payments into smaller, more manageable amounts.
We prioritize your privacy and uphold patient rights under the Health Insurance Portability and Accountability Act (HIPAA). As such, while using chat channels like social media, it's important to avoid sharing personal health information to protect your privacy. Rest assured, we maintain strict confidentiality standards and ensure your personal information is secure during your interactions with us.
Whether you are following up on routine care, ready for a style upgrade or just looking for a new eye care provider that can meet your needs as you and your family grow, Boerne Vision Center is proud to be a leading provider of eye care in Boerne Texas and we are happy to help you in a way that suits your busy lifestyle!