Welcome to Boerne Vision Center 
Since 2012, Boerne Vision Center has been the preferred provider of comprehensive, personalized vision examinations and services to our patients in Boerne, Fair Oaks and the surrounding areas. Schedule an appointment with us and give your vision the level of care and attention it deserves.
Susan L. Johnson, O.D., MPH, FAAO
Therapeutic Optometrist
Optometric Glaucoma Specialist
President of Boerne Vision Center, PA
Dr. Susan Ly Johnson is a Doctor of Optometry and a Fellow of the American Academy of Optometry. She earned her bachelor of science degree from the University of California, Los Angeles. She received her Doctorate of Optometry from the University of the Incarnate Word, Rosenberg School of Optometry. Dr. Johnson also obtained her Master's in Public Health from Salus University. Dr. Johnson completed a primary care residency at the University of the Incarnate Word – Rosenberg School of Optometry concentrated in ocular disease management. She studied under the guidance of San Antonio's best ophthalmologists and optometrists in glaucoma management, contacts and scleral lens for corneal transplants and keratoconus, dry eyes and corneal disease management, LASIK & PRK refractive surgery management, cataract evaluations, and retinal evaluations such as macular degeneration, diabetic retinopathy, and retinal breaks/detachments.
Dr. Johnson has been a healthcare volunteer in Honduras educating children about infectious diseases. In her spare time, she serves at the Child Legacy International organization based in Boerne, Texas. CLI is a Christian non-profit organization working in Africa to transform lives by providing opportunities that break the generational cycle of poverty and despair. Click here for full bio.

Charles D. Brodrick, M.D.
Visiting Ophthalmologist
Retina Specialist
Dr. Brodrick grew up in Dallas, Texas. He attended Texas A&M University from 1984-1988 and earned a bachelor of science degree. He attended the University of Texas Medical School at Houston from 1995-1999. He was awarded the most outstanding medical student in ophthalmology in 1999.
Dr. Brodrick then went to the University of Texas Southwestern Medical School at Dallas for residency in ophthalmology. He then completed a two year subspecialty medical and surgical fellowship in vitreoretinal diseases and surgery at Texas Retina Associates in Dallas, Texas. He studied under the guidance of 11 of the most respected names in the field of vitreoretinal disease, and the best retina surgeons in the world. He started private practice in San Antonio, Texas in 2005, and has established numerous satellite offices in surrounding communities to bring quality retina care to those unable to travel to San Antonio.
In 2007 he was awarded the West Side Chamber of Commerce Doctoral Achievement Award for outstanding community service, and was recognized by Mayor Phil Hardberger. He was recognized by the Commissioners Court of Bexar County and received an award from Nelson Wolff. He has also received a Certificate of Excellence by the State of Texas from State Senator Leticia Van De Putte. He was also recognized in Scene in S.A. as one of San Antonio's top doctors. Since 2008 he has been listed as one of the top retina specialists in "America's Top Ophthalmologists".
Dr. Brodrick focuses his practice on diseases and surgery of the retina, including diabetes, macular degeneration, retinal detachments, macular holes and trauma, amongst many other conditions. He is currently accepting new patients by referral only. Appointments can be made by phone at 888-271-7648. Please request to be seen at the Boerne office.
Warda Diaz, O.D.
THERAPEUTIC OPTOMETRIST
OPTOMETRIC GLAUCOMA SPECIALIST
Being born and raised in San Antonio, Dr. Warda Riaz has always known that San Antonio would be her forever home. A proud native Texan, Dr. Riaz attended the University of Texas at San Antonio, and graduated with a Bachelor of Science in Biology. She then furthered her education at the University of the Incarnate Word- Rosenberg School of Optometry, located here in the Alamo city. During the last year of her 4 year optometric training, she completed externships at Fort Sam Houston and at a local private practice.  Although each site cared for different subsets of patients, both modalities allowed Dr. Riaz to focus on treating dry eyes, glaucoma, macular degeneration, and diabetic retinopathy.  She also enjoys fitting contact lenses and participating in the co-management of LASIK, cataracts, and other various surgical procedures.
Dr. Riaz is certified by the National Board of Examiners of Optometry and is licensed to practice in the great state of Texas, by the Texas Optometry Board. Her passion for treating eye related diseases and preserving her patients' vision led her to earn the Therapeutic Optometric license as well as the Optometric Glaucoma Specialist designation.
Dr. Rebecca Sheeder, O.D
THERAPEUTIC OPTOMETRIST
OPTOMETRIC GLAUCOMA SPECIALIST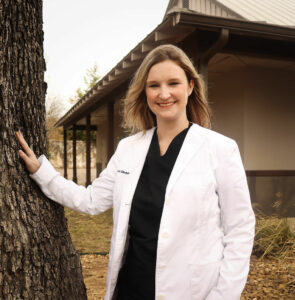 Dr. Sheeder received her Doctor of Optometry degree from the University of the Incarnate Word Rosenberg School of Optometry in San Antonio in 2016.  She then completed a hospital-based residency in primary care and low vision rehabilitation at the Lake City Veterans Affairs Medical Center.  
When not caring for her patients, Dr. Sheeder likes Pilates, hiking, and spending time with her fiance and two dogs.