We are honored to serve you.
WELCOME TO BOERNE VISION CENTER
Since 2012, Boerne Vision Center has been the preferred provider of comprehensive, personalized vision examinations and services to our patients in Boerne, Fair Oaks and the surrounding areas. Schedule an appointment with us and give your vision the level of care and attention it deserves.
Looking for unique eyeglasses? Unlike other practices, we focus on eyewear that will make you stand out and our lens selection is top quality!
We co-manage your surgery and can make your surgery process more manageable.
With today's demands on our eyes, dry eye syndrome is a rapidly developing concern among patients of all ages. We are experts in dry eye assessment and treatment and have many options to help you feel comfortable and avoid further eye disease.
I had a great experience from beginning to end! I scheduled my appointment with David- he was professional, courteous and kind. The office was clean and well kept. The receptionists were friendly and respectful to me and others who came in while I was in the lobby. Dr.Patel was very nice, patient, and informative. My experience, from start to end, was smooth and efficient. I was not waiting long for anyone and I left feeling valued, cared for, and with new contacts!
I just took my 92 year old mother to for an eye exam to Boerne Vision Center, Everyone was amazing, patient and kind! Each staff member we encountered demonstrated professionalism and understanding regarding our needs! Dr. Johnson was so thorough and thoughtful. She explained every aspect of our exam and gave wonderful suggestions to improve my mom's eye health!
Dr. Susan Johnson is absolutely amazing! She goes above and beyond even out of her field , to insure her Patients best possible outcomes! Her entire staff is incredibly, caring, knowledgeable and truly a wonderful team!!! We are blessed to be apart of the Boerne Vision Center Family!! Thank you Dr. Johnson!! Thank you Sheri Walls
With a long history of vision problems, I have seen my fair share of Optometrists and Ophthalmologists. From implantable collateral lens surgeries to retinal detachment ones, I've been blessed to work with so many professionals. But I must say, after working with Dr. Aum Patel, O.D., this was the best experience I've had to date. He genuinely cares about his patients and is passionate about his work. He's able to deliver medical jargon in a very well-digestible manner. I will 100% be back!
They were very helpful and very patient with my sister. They are also very helpful with helping my mom who only speechs Spanish understand the results and with the glasses process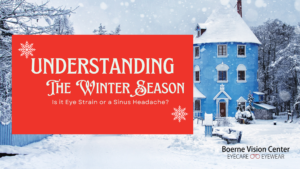 Introduction to the Winter Season Winter, with its picturesque snowflakes and cozy sweaters, also brings unique health challenges. Two notable concerns that often arise are eye strain and sinus headaches. These conditions, while seemingly minor, can significantly impact our daily lives. In this article, we'll explore how Boerne Vision Center in Boerne, TX, stands as
Read More »