Susan L. Johnson, O.D., MPH, FAAO
Therapeutic Optometrist
Optometric Glaucoma Specialist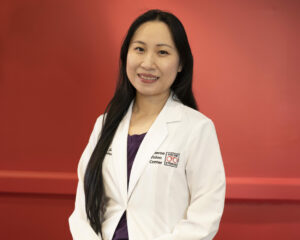 Dr. Susan Ly Johnson is a Doctor of Optometry and a Fellow of the American Academy of Optometry. She earned her bachelor of science degree from the University of California, Los Angeles. She received her Doctorate of Optometry from the University of the Incarnate Word, Rosenberg School of Optometry. Dr. Johnson also obtained her Master's in Public Health from Salus University. Dr. Johnson completed a primary care residency at the UIW Rosenberg School of Optometry concentrated in ocular disease management. She studied under the guidance of San Antonio's best ophthalmologists and optometrists in glaucoma management, contacts and scleral lens for corneal transplants and keratoconus, dry eyes and corneal disease management, LASIK & PRK refractive surgery management, cataract evaluations, and retinal evaluations such as macular degeneration, diabetic retinopathy, and retinal breaks/detachments.
Dr. Johnson has been a healthcare volunteer in Honduras educating children about infectious diseases with the Global Brigades. In her spare time, she serves at the Child Legacy International organization based in Boerne, Texas. Child Legacy is a Christian non-profit organization working in Africa to transform lives by providing opportunities that break the generational cycle of poverty and despair.
When she is not traveling, Dr. Johnson dedicates her time to volunteer in the local Boerne community. Read more about her service here and here. She also loves to write and contributes to the boernevisioncenter.com blog regularly.
Dr. Johnson's favorite animals are rabbits. Her husband proposed to her by placing a ring around their bunny's (Gimli) collar. They have two potty-trained house rabbits named Gimli and Phoebe. Every Easter they dressed them up for the neighborhood kids to play with them.
Dr. Johnson and her husband, Michael, have two children who frequents the office once in a while. The Johnson family are proud Boerne residents!
Follow Dr. Johnson on Linkedin!