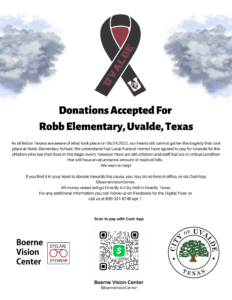 As all fellow Texans are aware of what took place on 05/24/2022, our hearts still cannot gather the tragedy that took place at Robb Elementary School. We understand that Local Funeral Homes have agreed to pay for funerals for the children who lost their lives in this tragic event, however there are still children and staff that are in critical condition that will have an abundance amount of medical bills.
We want to help! We have obtain permission from the City of Uvalde for this fundraiser.
If you find it in your heart to donate towards this cause, you may do so here in the office, or via CashApp $BoerneVisionCenter.
All money raised will go Directly to City Hall in Uvalde, Texas.
For any additional information you can follow us on Facebook for the Digital Flyer, or call us at 830-331-8745 opt 1.
Here's a word from our assistant office manager who is spearheading the fundraiser:
I have 6 nephews and a niece that I called the day it happened when I got home and hearing the worry in their voices broke my heart. I can't imagine how this effected the families and parents who lost their babies. Proceeds are raised will go directly to city hall in Uvalde to be put in a pool and will be dispersed to all families equally. Local funeral homes in the Uvalde and Chrystal city area have donated caskets and funeral arrangements for children who have passed. A $50K donation was donated to the city anonymously to pay for all headstones for the children who have passed.

Some may ask why we are still taking donations if everything is paid for? The city has confirmed there are still 18 in the hospitals recovering from the shooting. And will have and abundance of medical bills.

One of the teachers who was shot her husband just passed away today of a heart attack. It's like this bad dream has not stopped.

I just feel as a fellow Texan we need to be there for these people during this horrible event that took place that has ruined their lives forever.

– David Garcia