🌷🐇 HOP INTO SPRING WITH YOUR NEW FRAMES AND SUNGLASSES AT OUR 1 YEAR ANNIVERSARY CELEBRATION WITH OUR BIG SALE!🐇
Event Date and Time
Friday Apr 29, 2022
11 AM – 5:00 PM CDT
Trunk Show
Friday Apr 29, 2022
11 AM – 5:00 PM CDT
Featured Brands: Maui Jim & Charmant 
Location & Ribbon Cutting
Friday Apr 29, 2022
1:30 PM – 2:00 PM CDT
Boerne Vision Center at Fair Oaks
27511 IH 10 W, STE 401 Boerne TX 78006
Contact Information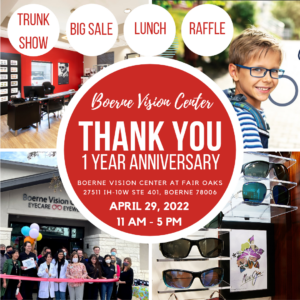 We are rolling out the red carpet for our patients during this event.
We want to give you a chance to see ALL the Maui Jim, Charmant, and some of our Gucci, Vera Wang, Zac Posen, Hugo Boss and Champions frames all in one place and time. You can shop designer sunglasses on sale for the whole family. 
📣 GIVEAWAYS, GIVEAWAYS, GIVEAWAYS!! What's a celebration without some fun prizes and gifts?! Come win mom a gift for Mother's day or buy her the newest fashion pair of sunglasses!
You have the chance to get the top of the line frame partnered with the best quality lenses for you and your family, like designer sunglasses for men and women.
You don't want to miss this patient appreciation event where you can get some lunch, snacks, drinks, AND a chance to win some amazing giveaways! Lunch boxes and dessert will be available starting 11:30 am. Come enjoy some of Dr. Johnson's favorite Bundtinis from Nothing Bundt cakes. Refreshments available all day.  
Our patients that day will get a chance to win…
🌊 Maui Jim Cooler and Beach Towel prize pack with Cup and Cap
🌺 2 Stylish and unique Sunglasses
🍀 Champion Gift Basket
😎 PLUS… A few folks will get a chance to win FREE PREMIUM LENSES (you can partner this with your favorite frame or a new one you find at the event!)
Come Celebrate with Boerne Vision Center at Fair Oaks! We look forward to seeing you and hope you take advantage of this Major Sales Event! Start saving the date! 
Big Sale
We will be having 40% off a complete pair of glasses, discounts on lens options and raffles for Free Frame, Free Lenses and more.* Come check out our mens designer sunglasses and popular sunglasses for women.
*Sale cannot be combined with any insurance. Some exclusions apply.*
You may be one of the luck WINNERS! Winners will be announced in our Facebook Page and you do not need to be present to win!
Trunk Show
Boerne Vision Center is so excited to invite Maui Jim and Charmant to our 1 year Anniversary event. Boerne Vision Center wanted to showcase new merchandise to all our patients, and would love if friends of patients and others in the community can join. Dr. Johnson's favorite pair of glasses is from Charmant, because she loves the flexibility of a Titanium frame and the weightlessness of the rimless design. Michael's favorite pair of sunglasses is from Maui Jim. He wishes he had more time to go fishing in them. Read below for some info on our vendors and partners.
Maui Jim – Inspired by the beauty and culture of Maui, our mission is to spread aloha through vivid color, clarity, and detail. Maui Jim got its start in 1980 as a small company selling sunglasses on the beach in Lahaina, Hawaii. Seeing a need in the market for technology that could combat intense glare and harmful UV while bringing the brilliant colors of the island to life, we engineered the revolutionary PolarizedPlus2® lens. Incorporated into seven new sunglass styles, our Classic Collection was introduced. We now offer over 125 styles of sunglasses, 100% of which are polarized and protect from 100% of UVA and UVB rays.
Charmant  – We are manufacturers of high-quality glasses, and experts in titanium materials in glasses and medical instruments. Founded in Japan in 1956, we supply optical stores around the world with popular eyewear collections from our house and licensed brands. With our extensive portfolio of optical frames and sunglasses, we support opticians in meeting the demanding needs of a wide variety of glasses wearers. Line Art CHARMANT is a dream come true in the world of premium glasses: women's frames whose delicate lightness offers a level of comfort never experienced before.
Thank you
We are proud to be celebrating our one year of being in business. We can't thank our patients, community, customers, vendors and employees enough for all that they have done to help us get here! Although this year was not easy for small businesses, we have learned so much and wouldn't change a thing. We are looking forward to many more years and what may be in store for our future!
Ribbon Cutting

Boerne Vision Center at Fair Oaks is a proud member of the Boerne Chamber of Commerce and we will celebrate our Anniversary Ribbon Cutting at 1:30 pm. Please join us for this amazing event. Read excerpt from the chamber below!
 They decided to expand locations after being the preferred provider of personalized vision exams in Boerne since 2012. Through integrity and professionalism, they provide caring, comprehensive eye and vision health services, a wide variety of quality products and an experience that will surpass your expectations. From your eye exam, to purchasing glasses and contacts, and everything in between, Boerne Vision Center is here to guide you through the process with ease and comfortability!  – The Greater Boerne Chamber of Commerce