Did you know that playing games can be good for your eyes? It might sound a bit like a joke, but it's true. Gaming can be healthy for your eyes as long as you play at the right time and in the right way. Even those who spend most of their day in front of their computer or laptop monitor can reduce their risk of developing eye diseases by playing games from time to time. In fact, there are many benefits to playing games if you do it in the right way and at the right time. This article will explain everything you need to know about gaming glasses and how they can help you optimize your gaming experience without compromising your vision. Are you ready to learn more? Keep reading to discover all there is to know about gaming glasses and whether they're suitable for your needs! 
You might have heard the term "gaming glasses" before and not realized what they were. Gaming glasses, also known as computer gaming glasses, computer glasses, or gaming goggles, are specially designed eyewear designed specifically for people who want to use computers and video games for long periods.  With the emergence of metaverse platforms, gaming glasses are also appropriate for extended time spent in the metaverse.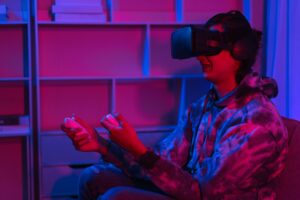 These glasses come with special lenses that help to reduce eye strain and protect your eyes from harmful blue light emitted from devices such as computers, laptops, smartphones, and even TVs. Most gaming glasses are made with a comfortable frame that will fit well under most common gaming headsets. This makes them a great choice for those who want to play games with ease and be rest assured their vision is protected. While they sound similar to regular eyeglasses, they're very different. Gaming glasses are designed to be worn by people who spend a lot of time in front of computers and other digital devices. Many of the Boerne Vision Center team are active gamers and can help you to find the right frame and lens package for you. 
Why You Should Use Gaming Glasses?
There are many reasons why you should be wearing gaming glasses while you're gaming, including:   
– Improved focus: When you're playing a game, it can be very easy to get distracted by everything and lose track of what you're supposed to be doing. This can cause you to lose out on tons of points and make it much harder for you to win against your friends. In addition to better performance during the game, certain lenses can actually improve acuity and the clarity of images. Speak to your Boerne Vision Center eye doctor or optician about our Zeiss lenses for blue light protection.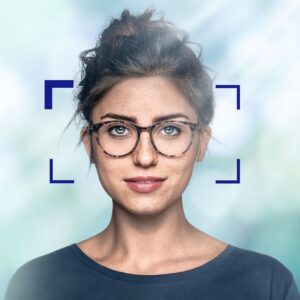 – Reduced eye strain: Eye strain is a common problem for gamers who spend a lot of time staring at a screen. However, gaming glasses can reduce the amount of eye strain you experience so you can game comfortably for longer. This can also alleviate symptoms of premature presbyopia. 
– Better overall health: Many people don't realize that playing games frequently can be good for your health. Gaming glasses can help you to play your games more healthily, allowing you to play for longer without straining your eyes too much.  Also gaming can improve aspects of your vision which can benefit day to day tasks like driving and recognizing objects and faces. Gaming can enhance peripheral vision, tracking moving objects, contrast sensitivity, and night vision. 
– Better quality gaming experience: Wearing gaming glasses while you're gaming can help to improve your overall gaming experience. When your eyes are relaxed and not irritated, you can play games without feeling like you are straining.  
Things to Consider Before Buying Gaming Glasses
Before you rush out and buy the first pair of gaming glasses you see, you should take a few things into account to ensure you pick the best pair for your needs. These include:  
– Blue light filtering: Most gaming glasses come with blue light filtering built in. Blue light is extremely harmful to your eyes and can cause a wide variety of eye diseases. Blue light filtering is often built into gaming glasses to help reduce eye strain and protect your eyes from blue light damage.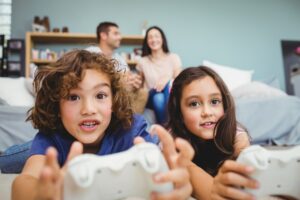 – Comfort: Gaming glasses are heavier than regular eyeglasses and can be uncomfortable to wear for long periods. Make sure you pick a comfortable pair, so you can wear them for as long as you need to without getting annoyed by them. 
 – Style: We know that you're probably not buying gaming glasses because you want to look stylish, but you should still keep this in mind when you're picking a pair. There are a wide variety of different styles to choose from, including different colors and designs. The team at Boerne Vision Center can even help you to customize any frame in our optical boutique and turn them into gaming glassses. 
-Ergonomics: Be sure to consult with your Boerne Vision Center optician about the way you sit and play your games or use your computer. This includes the height of the monitor, how high your chair is positioned and where you are gazing. All of these factors can impact your overall comfort and avoid unneccessary eye strain. 
The best gaming glasses in 2022
There are many different gaming glasses on the market, each offering its own take on the best way to protect your eyes while gaming. Dr. Susan Johnson is the owner of Boerne Vision Center. She wears light-weight titanium rimless glasses with the best blue light coating and digital lenses. Digital lenses are antifatigue lenses that allow the eyes to relax for close-range gaming on the phone and handheld devices.   
Fun fact: Dr. Johnson is a huge Nintendo fan, she has had every console since the original Super Nintendo. She likes the Nintendo Switch because it allows the player to switch from handheld up close to the TV which is great for visual hygiene. To avoid eyestrain, she advises patients to practice visual hygiene: take breaks every 20 mins, relax eye muscles, and blink appropriately. Also advised to wear appropriate reading/digital glasses if needed during near work.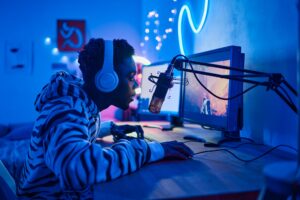 Dr. Johnson's current favorite games: Legend of Zelda Breath of the Wild, Animal Crossing New Horizons, and Pokémon Go.   
____ 
Michael is the optical manager at Boerne Vision Center. He helps patients find the best pair of glasses and then makes them for them with his tools and machines. Michael has worked with many high-quality lenses, but the lenses that he recommends the best are Zeiss lenses. This is not some small gaming glasses lens company that just started a few years ago. Zeiss has been around for over a hundred years and has a team of international engineers designing the best lens and blue light coating possible. Gaming glasses must have blue light protection, however just because it advertises blue light protection does not mean it's the best one. Michael was the one who suggested ergonomic gaming chairs for the staff at Boerne Vision Center and he also hand-made most of the staff's glasses. Michael's favorite pastime is gaming.   
He didn't wear glasses until he started getting eyestrain while playing competitively in Starcraft 2. His group consists of  pro to semipro players and his eye pain was starting to affect his team's performance. Now he has 18 pairs of glasses! All of which he uses for gaming.   
Current favorites: Valorant, Fallout, Summoner's War 
___  
Jaydon has been a technician at Boerne Vision Center for over two years. He assists the doctors and works up patients. One of the screening questions that the technician asks is "do you have headaches"? because that may be one of the symptoms of eyestrain and computer vision syndrome. He is also a student at UTSA and also plays in their competitive gaming club.   
Favorite game: Apex, Call of Duty War Zone.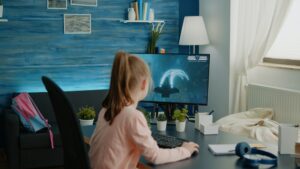 Special note for kids: 
We especially encourage all kids to wear gaming glasses. With myopia and other visual disorders on the rise, it is critical that you protect your child's young and developing eyes. Please consult with Boerne Vision Center about your child's computer use so we can be sure to screen for myopia and monitor your child's vision regularly to ensure their device usage is not impacting their ocular development
Now that you know everything there is to know about gaming glasses and the best gaming glasses you can buy in 2022, it's time to make a decision. There are many great gaming glasses out there and picking one can be difficult, especially if you don't know what you're looking for. Whether you're a serious gamer or you just play occasionally, gaming glasses are a great investment and can help to protect your eyes while you game. 
 The best is the one custom-built for you. Custom frame that sits comfortably on YOUR face. It is important to ensure the lens is of high quality.  
There are hundreds of companies producing gaming glasses and their advertisement, paid sponsorships may overshadow the function of the pair of glasses.  
Just like gamers can custom-build their PCs, we recommend coming in and custom-building your glasses with an expert optician. You know Boerne Vision Center has gamers in mind when our office staff all has gaming chairs. Online glasses are a great option for a backup pair, but if you want a high-quality pair of glasses come and see us, get a frame consultation, and learn about all the different upgrades.  
For example, when you pick out a graphics card for your computer, the RTX is more expensive but it performs better than the 2GB graphic card that the base model computer comes with. In this same fashion, a high-performance lens can provide relief on your visual resources and optimize your performance.  
We don't recommend tinted lenses for some patients because they distort perception in the game such as the popular Gunnar or Oakley glasses. ***Gunnars*** For some people that is a big deal, especially those who are in the field of web design, digital art, and game design.  
Instead, clear lenses offer the best optics overall, and when you are in competitive gaming that is critical.   
However, if you are light sensitive and prefer a tint, please contact Boerne Vision Center to see what are the many options for you and to also make sure you are not light sensitive from something else like dry eyes, irritated eyes, and so on.   
So no matter what games you play, the "Best" gaming glasses is the one that is the most comfortable for you while providing the best protection from blue light and eyestrain.